Do-it-Yourself Dog Wash at High Point Road
Bring your dog in and bathe them yourself with our state of the art cleaning station!
Our self-serve dog wash is perfect for those who would like to bathe and dry their dogs
without having to worry about the clean-up
Our Do-It-Yourself Dog Wash in All Pets Considered is open Monday through Saturday
from 9:00 am - 7:30 pm, and on Sunday from 11:00 am - 5:30 pm on a first come first serve basis.
Please call us at (336) 540-1400 to ask any questions you may have!
The last dog wash start time each day is 1 hour before store closing time.
Monday through Saturday the last wash start time is 7:00pm.
On Sunday, the last wash start time is 5:00pm.

The dog wash is only available at our 5004 High Point Road location.
Full Grooming Services are Offered at our Battleground Avenue Location.
We supply:
The tubs, which are cleaned after each use, with water temperatures programmed to be safe for dogs.
Waterproof aprons.
A variety of top quality shampoos and conditioners.
Facial scrub.
Soft, absorbent towels and Hose Driers which are unheated for safety.
You supply:
The dirty dog and about 30 minutes of your time.
*Please note: The last dog wash accepted is one hour before store closing.
Important notes:
You must have rabies paperwork to get a nail trim. We cannot take a tag. The paperwork can be on your phone as well.
You cannot bring your own grooming tools
Furminator rental for $5 to add to any bath
$20 bath is 1 towel and 45min
Add on a nail trim to any bath package for $10
DIY Dog Wash Prices
Dog Wash - $20
Nail Trim - $15
Deluxe Bath - $30 (for 5 towels and 1 hour)
Extra Towel - $1
Peanut Butter Bath Bone -$5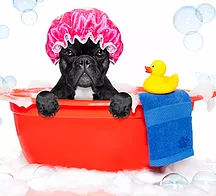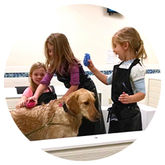 Self-Service Dog Wash
Our self-service dog wash permits you to stand in comfort at the dog washing station, and we provide all the things needed to give your dog a professional wash.
Come visit our pet supply store in Greensboro, NC specializing in quality food, treats, and supplies for cats and dogs.